featured news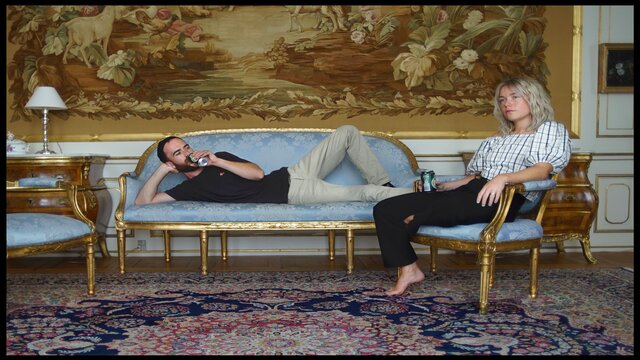 Moon Panda Hit Cruise Control!
26th January 2022
Share:


Artist Profile
A dreamily streamlined fierce panda one sheet

The Act: MOON PANDA

The Release: 'FALLING'

The Format: DIGITAL SINGLE

The Release Date: WEDNESDAY JANUARY 26TH 2022

The Digital Link: moonpanda.bfan.link/falling-

The Gig: Tuesday 10th May at OSLO Hackney, London | Tickets Here

The Truth: coming from the cosmic lands of Copenhagen and California, Moon Panda is a worldly wise unit fronted up by songwriter/singer/bassist Maddy Myers (she be the young American) and guitarist Gustav Moltke (he be the great Dane). 'Falling' is their brand new single, and the fourth track to be taken from their debut album, 'What On Earth', which will be released on fierce panda on March 4th 2022. Moon Panda will then take their lunar tunes to SXSW before a springtime UK tour.

You can pre-order 'What On Earth' on lovely yellow vinyl here: moonpanda.bandcamp.com/album/what-on-earth-2

And you can fall in love with the 'Falling' video here: youtu.be/6zgW_q6_bfk

'Falling' sees Moon Panda in full (Julee) Cruise control, ferociously chilled and dreamily streamlined. 'Falling' is also a swift follow-up to December's 'Moonrise' single, which was a nifty follow-up to the 'Cloud Watching' single, which popped up in November, which itself was a speedy follow-up to the 'Vacationer' single, which dropped mid-October. That's about the only hectic thing about Moon Panda, who peddle a sumptuously pretty sound which has drawn comparisons to Beach House, Lana Del Ray, Mazzy Star, Warpaint, Jerry Burns, Tame Impala, Daughter and a very, very stoned Raveonettes.

"We named 'Falling' before it had any lyrics," recalls Maddy. "We all thought it felt like the ground was being pulled out from under you and it was like that scene from Trainspotting where Ewan sinks back into the carpet - a kind of blissful removal from reality. The lyrics are a contemplation of just kind of existing and trying to be a part of it all. Starting the album out with those first lines, "I don't need to play a part/I forget that/I can be exactly who I want/I forget that" feels really right. I think it's such a big part of getting older, realizing that you don't need to put up with any bullshit - from yourself or anyone else. And that the world is inherently good and bad but you should pay most attention to the good."

Moon Panda followers will be aware of the duo's wondrous affection for animation - this is a couple who have a dog called Bmo, after all. It's a theme they really warm to with the video for 'Falling', where Gustav has quite literally illustrated their own song.

"So this is the first thing I've ever animated. I took the plastic off the iPad and started drawing this video - with no idea that it would be the thing I worked on for the next year and the music video for my favorite song from the album! But throughout this music video I was learning how to animate and use the software and pretty much how to create a moving, living story - and I think when you watch it knowing that it becomes a part of the journey. It starts off really rough and sketch like and slowly evolves into more smooth, more intricate shifting angles and scenes.

"I drew almost every single frame, that's about a couple thousand hand drawn pictures, which not surprisingly ended up taking longer than expected. I've always had so much respect for animators and that's only grown since this process (shoutout to the Andrew Khosravani, who's animated 3 insanely cool videos for us, for being such an inspiration). The only rule I set for myself was that it would all be a one-shot, no cuts. It gives you a feeling of being sucked into the video and accentuates the feeling of falling.

"It was also a pretty crazy feeling to create a little man and his whirlwind of an adventure. After he jumps he starts a long chain reaction of mostly terrible events he has little to no control over. When he finally sees the donut, does he really have choice but to eat it? I never did a storyboard which gave the video a stream of consciousness feel. It's been the greatest to go full circle with this song, creating both the audio and visual. I definitely plan on doing it again. And in the meantime, I hope this little voyage is meaningful for a few people. I know it has been for me."

Yet behind that caringly fragrant demeanor lurks a fierce Moon Panda work ethic. Landing in Austin for SXSW 2020, they found that the festival had been cancelled and the rest of the world was heading to hell in a covid handcart. Undeterred, the Moon Panda group re-grouped and worked out a Plan B, as Maddy explains: "We drove our rented van around to all these national parks, hiked around, and made makeshift studios everywhere we went. We'd stopped rehearsing and started jamming. It changed the way I thought about music and making music. This time it just felt…monumental, maybe because the entire world was going through something together."

So in so many ways Moon Panda never stopped believing throughout lockdown, they just relieved themselves with their music: their amiably melancholic 'Make Well' EP meandered out in June '21, followed by a suitably casual cover of The Strokes' 'Call It Fate, Call It Karma' which slunk out as part of fierce panda's Covid Version Sessions. Another wee corona-shaped hole was filled by the stand alone springtime single 'Visions'. Along the way, as love from Lauren Laverne on BBC 6music grew, Moon Panda realised they were accidentally indulging in a spot of public service broadcasting: as the streaming figures multiplied, so did the messages of thanks from the lockdowned masses across the globe who were using Moon Panda's music to transport themselves out of their locked down discomfort zones.

Fingers crossed next time they fly into Austin for SXSW 2022 the Moon Panda landing will be softer than snow.