featured news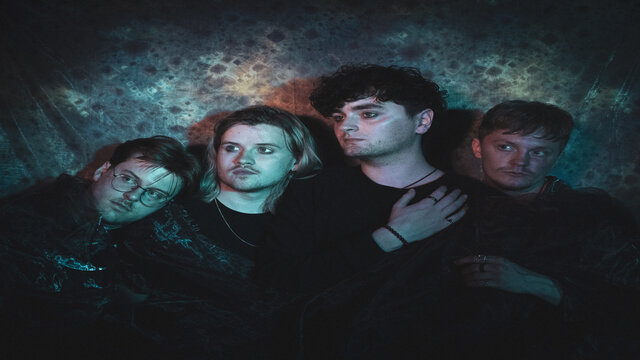 Jekyll Do What They Can!
27th December 2019
Share:


Artist Profile
A hyper-melodic fierce panda one sheet

The Band: JEKYLL

The Release: 'I DO WHAT I CAN'

The Format: DIGISINGLE

The Release Date: JANUARY 10TH 2020

The Gigs:
JANUARY 16TH LONDON MANOR HOUSE THE FINSBURY
(PANDAMONIUM '20 SHOW w/ NATIONAL SERVICE + MODERN HINTERLAND)

MARCH 16TH – 22ND AUSTIN SXSW FESTIVAL

The Truth: JEKYLL are four seaside rocking kids from Blackpool who still consist of Joel Foster (vocals / guitar), Lewis Armistead (bass), Liam Singleton (drums) and Mike Spence (guitar). We find them hurtling into the soaring '20s with a brand new single called 'I Do What I Can' on January 10th and a live show for their label's New Year-bustin' Pandamonium festival at The Finsbury on Thursday January 16th.

'I Do What I Can' finds Jekyll in traditional hyper-melodic mode, marrying splashy, crashing choral Musings with maximised alt.rock guitars and a disorientatingly bendy shoegaze-tinged sonic undercurrent. For theirs is a world of gently grand gestures and discretely epic ambition, as you might expect from reading singer Joel's sensitive song summary right here:

"'I Do What I Can' s a song about relentlessly chasing the object of your desires, with a wish to change the past, and trying to force chance a little bit. It laments missed opportunities and borders on obsession. I think it's important that there is a sense of tragedy to it all – that despite the optimism in the lyrics, the past can't be changed and all these efforts to force fate are futile."

Jekyll's own past saw them hook up with fierce panda at The Great Escape in 2018 in time for the lively, driving 'Jekyll' EP. Recent roaring single releases 'Echoes' and 'Marionette' have been championed by Huw Stephens, Steve Lamacq and John Kennedy, while their summertime BBC Maida Vale session for Radio 1 was played out on the Huw, Jack Saunders and Daniel P Carter shows. Oh, and the Maida Vale session track 'Mania' was played by Huw on his 'Best Of The Year Special' just before Christmas.

Insert 'Mania Vale' joke here. Then throw in media and live support from BBC Introducing, This Feeling, Gigslutz, The Zine and Kick Out The Jams and it becomes obvious that Jekyll aren't hiding their alt.rock light under any bushel. Next up the chord-crunching quartet will release a second EP on fierce panda records in Spring 2020 to coincide with their trip to Austin for SXSW.