featured news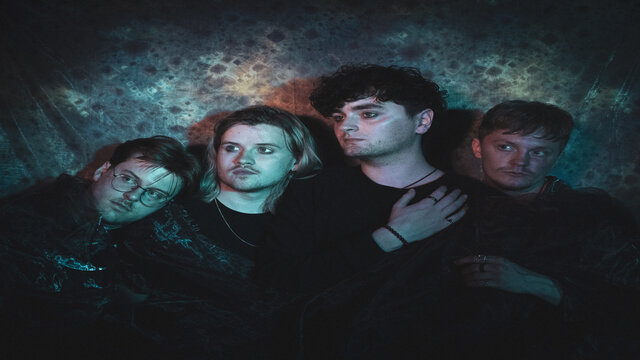 Jekyll Work On Plan A + Ep!
4th June 2018
Share:


Artist Profile
** CALL THE DOCTOR! JEKYLL JOIN THE PANDA! **
** BLACKPOOL ROCKERS DELIVER 'PLAN A' SINGLE AND 'JEKYLL' EP! **
** AMAZING RADIO GIG OCCURRING ON AUGUST 23RD! **
A hyde-and-seeking fierce panda one sheet
The Act: JEKYLL
The Release: 'JEKYLL' EP
The Formats: DIGITAL & LTD EDITION CD
The Release Date: JUNE 29TH 2018
The Digital Link: smarturl.it/jekyll_ep
The CD Link: goo.gl/Ud61mf
The Tracklisting:
1. 'PLAN A'
2. 'MANIA'
3. 'OTHELLO'
4. 'SO WRONG'
5. 'THE WOUNDS WE'VE IGNORED'
The Truth: JEKYLL are four alt.rock kids from Blackpool, England. They consist of Joel Foster (vocals / guitar), Lewis Armistead (bass), Liam Singleton (drums) and Mike Spence (guitar). The scowlingly sultry 'Plan A' is their new single on fierce panda, and is taken from their brrrand new 'Jekyll' EP.
It's a fruitily powerful sound, too: recorded at Sugar House Studios (Pale Waves, Viola Beach), 'Plan A' is more becalmed than some of their other 'Jekyll' songs with its gently lunging guitars and fragrant falsetto, but you can still smell the frustration, as you may or may not expect from a band known for its melancholic soundscapes, dynamic mood shifts and visceral intensity. "'Plan A' is about feeling stagnant and directionless in your life and not knowing how to fix it," muse Jekyll. "It's about being faced with an impossible dilemma (having two Plan As) and being torn apart by it. The song is about indecision."
Ironically enough there was no indecision on the part of fierce panda who saw Jekyll play not once but twice at The Great Escape (we stood in exactly the same spot during both sets to psych them out. Frankly, they didn't even notice), and were so smitten by a complex sound likened to grown-ups running from Radiohead to Editors they did the deal there and then by the sea.
Barely a fortnight later the Jekyll release plans were being laid bare: hot on the heels of 'Plan A' the 'Jekyll' EP features select previous releases including 'Wounds', which opened up various excellent doors to them from BBC Introducing Lancashire to East Street Tap in Brighton. Along the way there have been festival appearances at Sheffield's Tramlines, Liverpool's Threshold, South Yorkshire's Blackfest, Manchester's Sonder Fest, Lancaster Music Festival, The International Pop Overthrow Festival and Blackpool's Rebellion Punk Fest, as well as support slots with Vukovi, October Drift, Racing Glaciers, Demob Happy, The Membranes, Glass Caves and The Tapestry.
The 'Jekyll' EP is also the first release as part of the Second Fierce Panda EP Club wherein six new bands will each release an EP over the course of the next year. This follows the fierce panda 2017 EP Club wherein the likes of Fighmilk, The Caress and August Child flaunted their wares, all with the sterling support of Arts Council England.
Come see Jekyll brood at these shows here:
AUGUST 23rd 2018
MANCHESTER BAND ON THE WALL
Free Vibes curated by Shell Zenner (Amazing Radio)
+ Hannah Ashcroft + Bleach Boy + Monk
https://www.facebook.com/events/814385312092052/
SEPTEMBER 12TH 2018
LONDON CAMDEN MONARCH
Mark Beaumont Presents
"Operatic, anthemic rock…This is a band willing to uncover the darkness and show that we all have some unnerving qualities we hide."- Louder Than War
"This is a release that makes you feel like everything around you is ending, the apocalypse dawning and time slipping away. But you'll be okay with that, because you could do a lot worse than this being the last thing you hear." - Vulture Hound on 'Wounds'