featured news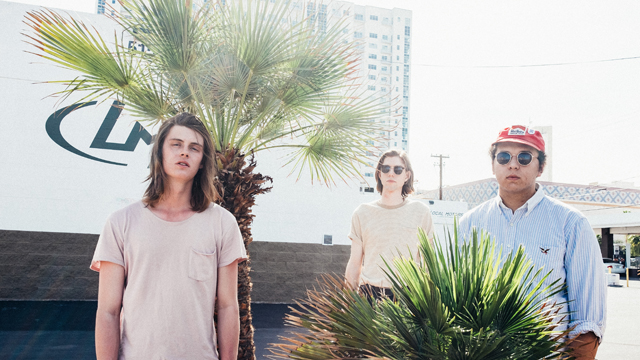 Surf's Up! The Velveteins Kick On!
31st March 2017
Share:


Artist Profile
A cosmically fluffy fierce panda one sheet
The Act: THE VELVETEINS
The Release: 'MIDNIGHT SURF'
The Format: DIGITAL SINGLE
The Label: FIERCE PANDA
The Release Date: APRIL 14TH 2017
The Truth: The Velveteins are a rock n' roll band from Edmonton, Canada, who consist of Spencer Morphy (vocals / guitar), Addison Hillier (percussion) and Dean Kheroufi (bass). 'Midnight Surf' is their brand new single which is taken from their forthcoming debut album 'Slow Wave', and a terrifically tidy slice of psychpop pie it is, too, as you can hear at this Clash Music premiere here: http://www.clashmusic.com/news/track-of-the-day-303-the-velveteins
Formed by frontman Spencer, The Velveteins fell into shape in the summer of 2014 after the singer's return from quality time spent vagabonding around Australia - and believe you us, this is very much a band made to go vagabonding. The 'A Hot Second With The Velveteins' EP set out their rackety indierock stall last year as they hooked up with sister label Fierce Panda Canada. And at the end of 2016 they dropped the punchy, precise 'Don't Yah Feel Better' track to set the debut album bells ringing and get Goldflake Paint enthusing, as they said thusly: "Assured, demonstrative and undisguised, The Velveteins crack out the surf-pop hooks as frontman Spencer Morphy reminds us all that everything isn't so bad when you have a good tune in your ear and your friends close by."
Their slinky indiesurf tendencies have thus far spewed forth comparisons to The Kinks and The Libertines, but The Velveteins are frequently more casually weird than totally wired, and always way more welcoming. Indeed, 'Midnight Surf' is a slacker-glam-pop anthem for the whacked-out generation, nodding vacantly at Mott The Hoople and The Flaming Lips with dreamy melodies popping up from all angles and creamy guitar solos sinking like polished stones. Better still, the video for 'Midnight Surf' features a VW campervan. This makes us weirdly excited.
There is much more lysergic loveliness to be had when the 'Slow Wave' album arrives on fierce panda on May 12th. Until then, remember this: The Velveteins last visited these shores last year for shoeless shows at The Great Escape in Brighton, Sound City in Liverpool and Abbie McCarthy's Good Karma night at the Islington in Islington. Rather handily, the terrific trio from Edmonton (in Canada) based themselves in Edmonton (North London).
And you can't get tidier than that.