featured news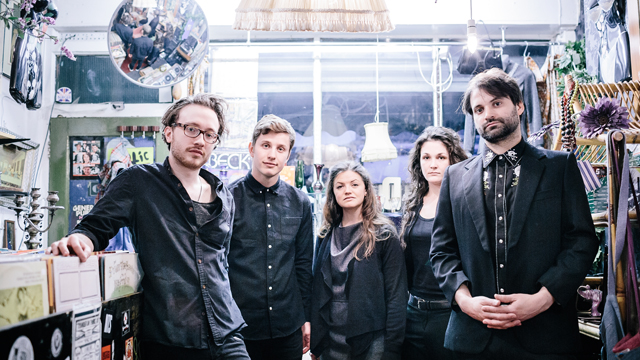 Wooden Arms Wrap Things Up With The Panda!
24th February 2017
Share:


Artist Profile
** WOODEN ARMS WRAP THINGS UP WITH THE PANDA! **
** 'TRICK OF THE LIGHT' ALBUM' COMING IN THE AUTUMN! **
So fierce pandais turning 23 years old. What better time then to demonstrate the youthful vigour lurking beneath those ever-greying whiskers by announcing a brrrrrand new signing?
Say hello then to Wooden Arms, "a genre-fluid contemporary quintet" from Norwich / London who draw from the many hearty assets of Alternative, Classical, and Trip-Hop music. Enthused with the rhythmic sensibilities of Portishead, blended with the ethereal melodies of Sigur Ros, Wooden Arms' first full length album 'Trick of the Light', due for release in the autumn of 2017, sees the band shift to a more contemporary palette, with their earnest combination of crushed melody and soaring orchestrations aiming for ever-higher heights.
All of which can be heard on 'Burial', the current first single to be taken from that there forthcoming album. 'Burial' lulls the listener into a somniferous sombre lullaby in its first section, a peace which is broken by a pulsating trip-hop heart-beat bassline, something which continues to ramp up a sense of dread until finally it culminates in a furious, cacophonous clattering of sound, as you can smell here: https://www.youtube.com/watch?v=rzx92HfipCQ
Happy days, in so many ways. Wooden Arms have already confirmed a special album launch party at Norwich Open and head out on tour with Matthew & The Atlas, as per the dates below, and we'll be back with much more news soon…
February 25th Bocholt Vogelhaus (Germany)
February 26th Hamburg Nochtspeicher (Germany)*
February 27th Berlin Privat Club (Germany)*
February 28th Wiesbaden Kesselhaus (Germany)*
March 1st Zurich Papiersaal (Switzerland)*
March 2nd Lausanne Bleu Lezard (Switzerland)*
May 27th Norwich Open
* with Matthew & The Atlas