featured news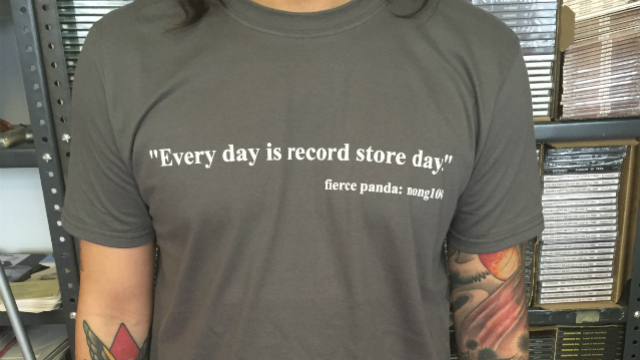 Ton Up! Fierce Panda Hits 100!!!
26th December 2015
Share:


Artist Profile
** fierce panda releases its 100th album! **
** And it's a t-shirt! **
a snug-as-a-bug-in-a-rug fierce panda one sheet
The Thing: A T-SHIRT (with a free album)
The Slogan: "EVERY DAY IS RECORD STORE DAY."
The Colour: GREY WITH WHITE WORDING Pre-Order Now
The Catalogue Number: NONG 100
The Release Date: DECEMBER 11TH 2015
The Truth: It's taken 21 long, loping, liquid-filled years but fierce panda has finally reached the very cusp of releasing their 100th album. Happily, in true haphazard fierce panda stylee that 100th album is a t-shirt with the slogan "Every Day Is Record Store Day" emblazoned across the chest, like some kind of defiant retail message from beyond the rave.
The "Every Day Is Record Store Day" t-shirt is available to order at £11.99 (plus P&P) from The Panda Shop right now. Rather cannily, each t-shirt purchase comes with a free digital album called 'Every Day Is Record Store Day' which features nine of the saddest tracks culled from the nine albums released by fierce panda in 2015 – you've gotta get with the festive spirit, right? And here is that 'Every Day Is Record Store Day' free digital album tracklisting…and take a listen with our spotify playlist:
1. ALMA 'If You Believed You Were An Island':
Gloriously bruised post-rockings from epic London duo - ambient-out-of-shape, in so many ways. From the mini-album 'ALMA'
2. DALTON 'Bedford & Grand':
A fuzzily lachrymose piano-led power ballad from American dreamer which is like The Flaming Lips licking Nilsson's 'Without You'. Really. From the album 'Dalton'
3.DESPERATE JOURNALIST 'Cement':
A lilting, lulling lament from normally irascible North London quartet. From the album 'Desperate Journalist'
4. HELSINKI 'Bitpart':
In which Drew McConnell delivers languid acoustic musings with the saddest violin in the world. From the album 'A Guide For The Perplexed'
5. MASAKICHI 'Without Arrows':
Vivaciously laidback cosmic rock antics from girl / boy / girl power trio. From the mini-album 'Hummingbird'.
6. MATES OF STATE 'Gonna Get It' :
Lovely soft focus '70s powerballadry by neo-legendary man/wife electropop duo from Connecticut. From the 'You're Going To Make It' EP.
7. PESKY! 'Memories':
Tearfully sweet sugargazing indie madness from seven Cumbrian schoolkids. From the 'Smells Like Tween Spirit' mini-album.
8. PILE 'Hot Breath':
Clangingly subtle loveliness from Boston hardcore crew which builds up a creamy head of steam like a superbad Bad Seeds. From the album 'You're Better Than This'.
9. SURFER BLOOD 'Other Desert Cities':
Drowsily tropical skills from Floridian indie flowerpots. "So bring your appetite / And blow out the candles tonight" indeed. From the album '1000 Palms'
The previous 99 albums on fierce panda strewn across the last two decades, then: a cocktail of bad panda puns (see the early singles compilations 'Nings Of Desire, 'Nings And Roundabouts', 'Where The Wild Nings Are'), genius Transatlantic tendencies (Death Cab For Cutie, The Walkmen, The Pains Of Being Pure At Heart), cheekily blossoming mini-album delights (Seafood, ILIKETRAINS, The Parkinsons) and more from Art Brut, The Raveonettes, Goldheart Assembly, The Hosts, The Blackout, shitdisco, The Crookes, Winnebago Deal, Youthmovie Soundtrack Strategies and loads of bands who coulda been contenders, but had to be content with fifteen minutes of infamy in Indieland instead.