featured news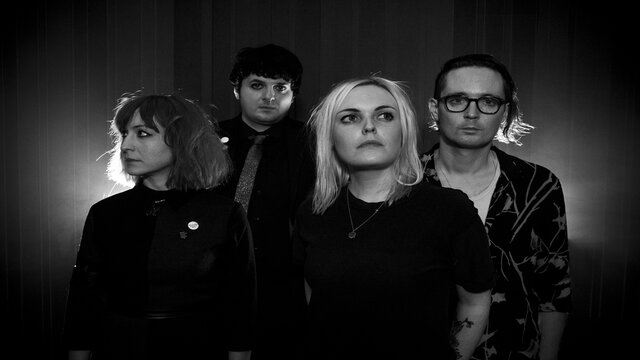 Desperate Journalist 'leave Home'
2nd December 2015
Share:


Artist Profile
** DESPERATE JOURNALIST 'LEAVE HOME'... **
** ..TO HEADLINE BOSTON MUSIC ROOMS ON JANUARY 13TH! **
Shadowy indierock scowlers DESPERATE JOURNALIST, who are already supporting Britpop romantics Marion at Islington Academy on March 5th, have announced more plans for some suitably heroic New Year action. The North London quartet have just delivered the thunderingly complex 'Good Luck' EP, from which the 'Leave Home' tune will be 'released' on Friday January 15th. To coincide they will be playing some bloody loud music for local people when they headline a special show in Tufnell Park, like this:
Club Fandango & fierce panda present: PANDAMONIUM '16
DESPERATE JOURNALIST + special guests
LONDON TUFNELL PARK BOSTON MUSIC ROOMS
WEDNESDAY JANUARY 13TH 2016
advance tickets available now from www.wegottickets.com/event/338427
February 12th: HARWORTH Blacksmiths Arms
February 13th: SCARBOROUGH Coastival
March 5th: LONDON Islington O2 Academy (with Marion)
March 12th: BARCELONA La Capsa (Minifestival de Musica Independent)
DESPERATE JOURNALIST released the 'Good Luck' EP on October 16th, guided by the deceptively demure 'Perfect Health' tune, and recently toured with Finnish apocalyptic post-punks Grave Pleasures. It was a suitably angular fit for band who are playing the DIY game their own wayward way, as Jo Bevan (vocals), Simon Drowner (bass), Rob Hardy (guitar) and Caz Hellbent (drums) - for 'tis Desperate Journalist – launched themselves into 2015 with a sold out Lexington show and the release of their debut album, the succinctly titled 'Desperate Journalist'.
They have scarcely looked back since, hoovering up reams of press acclaim and headlining the 100 Club in the spring. In one summertime week they played tremendously received slots near some trains at Indietracks in Derbyshire and near some tramlines at Tramlines in Sheffield, as well as supporting The Pains Of Being Pure At Heart at The Garage in London. And when they weren't glowering at the indie masses they were locked away with Keith TOTP in the same Dean Street studio where 'Desperate Journalist' took thoroughly bruised shape.
Happily, next radio track 'Leave Home' is DESPERATE JOURNALIST in excelsis, a great big gothic grapplematch between a bittersweet Rickenbacker, begrudging basslines and furiously ratatat drummings with a stunningly elegant middle eight and the greatest guitar solo you'll hear all week, all topped off by Jo Bevan's heartfelt hollerings. It's as good as they say, and people say DESPERATE JOURNALIST really are pretty brilliant...
"This is the sound of glamour huddled around a gas fire smoking a butt rollie and dreaming out of the window, looking into the stars. The beautiful and spellbinding sound of a band desperate to prove something…what they do prove is that groups with guitars this great aren't two-a-penny anymore."
Jeremy Allen, The Quietus
"The most perfect thirty minutes of live music I have ever seen."
Gary Kaill, Words And Guitars