featured news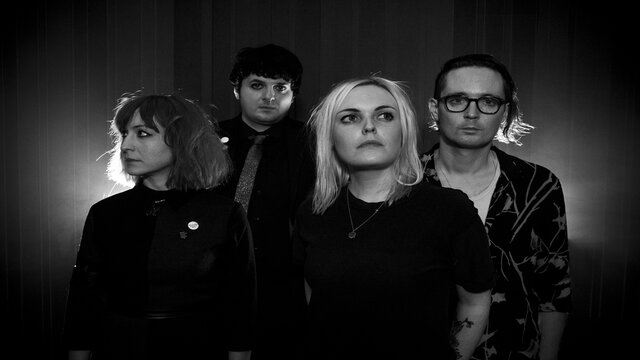 Desperate Journalist Wish You 'good Luck'
21st August 2015
Share:


Artist Profile
** DESPERATE JOURNALIST WISH YOU 'GOOD LUCK' **
** BRAND NEW FIVE-TRACK EP RELEASED ON OCTOBER 2ND… **
** ...AND UK TOUR WITH GRAVE PLEASURES LURKING IN THE SHADOWS **
A wistfully traumatised fierce panda one sheet
The Act: DESPERATE JOURNALIST
The Release: THE 'GOOD LUCK' EP
The Formats: DOWNLOAD & CD
The Release Date: OCTOBER 2ND 2015
The Tracklisting:
1. 'GOOD LUCK'
2. 'LEAVE HOME'
3. 'A PHASE'
4. 'PAINT SOMETHING'
5. 'PERFECT HEALTH'
The Truth: DESPERATE JOURNALIST are throwing themselves back into the furious indierock fray with the October release of their brand new 'Good Luck' EP and a UK support tour with Grave Pleasures. They kick off at radio and press with 'Perfect Health', and the fact that the last song on the EP is the lead-off track to the media is neatly in sync with the awkward, angular thoughts of a band who are playing the DIY game their own (bitter)sweet way.
As for touring with Grave Pleasures, the apocalyptic post-punks from Finland, it should be an insanely intense fit: four sharp characters who have spent the past two years shining a light on the murky delights of North London's manic music underworld, Jo Bevan (vocals), Simon Drowner (bass), Rob Hardy (guitar) and Caz Hellbent (drums) - for 'tis Desperate Journalist – launched themselves into 2015 with a sold out Lexington show and the release of their debut album, the succinctly titled 'Desperate Journalist'.
They have scarcely looked back since, hoovering up reams of press acclaim and headlining the 100 Club in the spring. In one especially marvellous summertime week they played tremendously received slots near some trains at Indietracks in Derbyshire and near some, umm, tramlines at Tramlines in Sheffield, as well as supporting The Pains Of Being Pure At Heart at The Garage in London. And when they weren't glowering at the indie masses they were locked away with Keith TOTP in the same Dean Street studio where 'Desperate Journalist' took thoroughly bruised shape.
The end result is the 'Good Luck' EP. If the album was a reckless rollercoaster ride of half-maddened post-punk melodies and battered neo-gothic chaos with the odd pause for breath, this EP is a more considered experience. True, 'A Phase' captures that original electrified essence rare, but this is a splendidly diverse and disciplined package, epitomised by serenely jangling lead-off track 'Perfect Health', which is all sweetness and (b)light.
"That track - in particular lyrically - is about romantic longing as a symptom of personal anxiety," explains singer Jo. "Sonically it's still chiming and melodic as our other songs, but also softer sounding and a bit metronomic than a lot of what we have done previously. The 'Good Luck' EP documents our progress from our debut towards our next album proper, and as we took it as an opportunity to experiment a bit it is more varied in tone. Alongside the anthemic guitar pop which will be familiar to those who have followed us so far, there are some slightly unusual song structures, more aggressive / heavier elements going on, and sections altogether more sparse and unadorned than anything we have attempted before. The title 'Good Luck' comes from the first track which is a ballad-style kiss-off to a toxic friendship."
They do deadpan deathlessly well, do Desperate Journalist. Not for nothing does Jo Bevan sigh "I don't really miss you / I just miss my youth," so cuttingly in 'Perfect Health', and not for nothing does the 'Good Luck' EP brilliantly expand upon the raggedly glorious work of the debut album. We especially like the epic skills of 'Leave Home', replete with the greatest guitar solo you'll hear all year, and we really like the fact that the yearning fragility of 'Good Luck' is played like a folk song. A dark, brooding, voluptuous we're-going-to-kill-you kind of folk song, admittedly, but that was always our favourite sort anyway.
"This is the sound of glamour huddled around a gas fire smoking a butt rollie and dreaming out of the window, looking into the stars. The beautiful and spellbinding sound of a band desperate to prove something…what they do prove is that groups with guitars this great aren't two-a-penny anymore."
Jeremy Allen, The Quietus
Come be spellbound when Desperate Journalist tour with GRAVE PLEASURES at these venues here:
OCTOBER 7TH NOTTINGHAM Bodega
OCTOBER 8TH MANCHESTER Sound Control
OCTOBER 9TH GLASGOW Cathouse
OCTOBER 11TH BIRMINGHAM Oobleck
OCTOBER 12TH SOUTHAMPTON Joiners
OCTOBER 13TH LONDON Borderline
Pre-Order 'Good Luck' From The Fierce Panda Store