featured news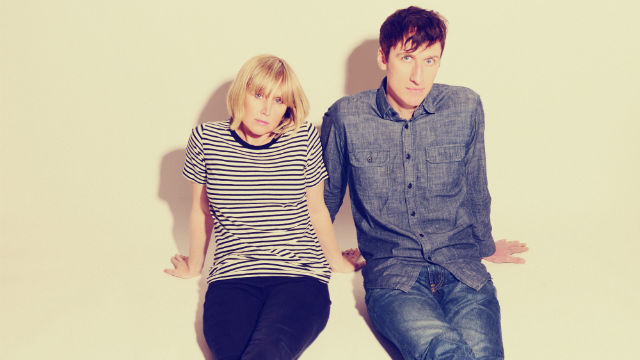 Mates Of State Make It Over!
5th October 2015
Share:


Artist Profile
* MATES OF STATE 'ARE GOING TO MAKE IT' OVER! *
* FIRST UK LIVE SHOWS FOR NINE YEARS ANNOUNCED… *
* ...FOLLOWING NEW EP, 'GREATS' COMP AND THREE CLASSIC ALBUM REISSUES!*
The Act: MATES OF STATE
The Track:'BEAUTIFUL KIDS''
The Impact Date: OCTOBER 30TH 2015
The Label: FIERCE PANDA
The Truth: Much like shiny red London buses MATES OF STATE take their time, but when they rock up they rock up en masse: nine years since they last played live in the UK the gently revered and long-time married Connecticut-based exuberant indie-synth-pop duo of Kori Gardner (vocals, organ, piano and occasional guitar) and Jason Hammel (vocals, drums, percussion and occasional synthesiser) have announced new shows for the autumn, much like this:
OCTOBER 26TH: MANCHESTER, SOUP KITCHEN (tickets)
OCTOBER 27TH: GLASGOW, HUG & PINT (tickets)
OCTOBER 28TH: LEEDS, BELGRAVE (tickets)
OCTOBER 29TH: LONDON, BIRTHDAYS (tickets)
OCTOBER 30TH: CARDIFF, CLWB IFOR BACH (tickets)
NOVEMBER 1ST: LEICESTER, THE SCHOLAR (tickets)
NOVEMBER 2nd: BRIGHTON, THE HOPE & RUIN (tickets)
In relative terms the duo's four year gap between UK releases is but small new potatoes, but 'Beautiful Kids' is from the summertime 'You're Going To Make It' EP, which was their first music to come out over here since 2011. Happily the EP flaunted five anthemic and emotionally rich songs fizzing with the usual Mates Of States-style razor-sharp harmonies, shimmering new wave synth melodies and lyrics that speak to both personal and universal concerns. Indeed, on this key track 'Beautiful Kids' the band speaks of how a sense of loneliness pervades, even though we are connected to one another 24/7 thanks to modern technology. Or as Jason Hammel puts it: "We all just want to be seen, but we won't look up from our screens so that we can be seen."
Like those buses though, once one release was unleashed they just kept on a'coming: and so the 'You're Going To Make It' EP was accompanied by the digital reissue of Mates Of States' three previous albums and the launch of a brand new compilation on download and CD, all on fierce panda. That Mates Of State compilation is called 'Greats' which, rather than spanning their lengthy career, very much focuses on the past decade by bringing together various vivacious highlights of the three panda reissues, those albums being 'Mountaintops' (originally released in 2011), 'Re-Arrange Us' (2008) and 'Bring It Back' (2006).
This is actually the first time 'Re-Arrange Us' and 'Mountaintops' - Mates Of State's fifth and seventh albums respectively - have ever been officially available in the UK and Europe. And according to Jason Hammel, we should make the most of these long playing treats, because the ways in which people consume their music are a'changing:
"I don't like it, but the long play album format is probably dead," he muses. "Now we just want the hits - 'don't bother me with filler; get me your best songs straightaway'..."
It's not just the manner in which Mates Of State is planning to release their music from hereon which is evolving, but also how the band now present them on tour.
"We're focusing more on performance as a whole and not being stuck behind our instruments," says Hammel. "We're coming to the front of the stage for some songs with Kori playing drums and me playing keys, mixing up the performances in new and exciting ways."
Sounds zingingly promising for October, then. But can we ask just why it is Mates Of States haven't visited these shores for almost ten years? Back to Jason Hammel again, who deadpans: "You can blame the children as to why we haven't been in awhile…:)"