featured news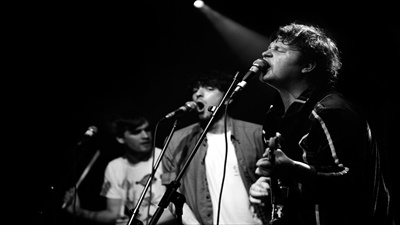 Dingus Khan Hit The North
24th March 2013
Share:


Artist Profile
**IF ANYONE DID...DINGUS DID**
**WHIPLASHING ESSEX OCTET IN MIDST OF SECOND TOUR**
**AND KNIFEY SPOONY GETS BUFFED UP FOR A SECOND GO**
Everyone's very favouritest sixteen-legged rock'n'roll dream machine DINGUS KHAN are girding their loins and goading their lions for a return to the national airwaves and the long and grinding road. Live favourite and abstract anthem Knifey Spoony is released by fierce panda records as a digital single on April 29th 2013; their berserk Support Mistley Swans album gets a digital reissue-type overhaul with bonus tracks on May 6th; while THE RETURN OF DINGUS KHAN TOUR sees them revisit some of their happiest hunting grounds, and those grounds look like this:
April 23rd WOLVERHAMPTON Slade Rooms
April 24th NEWCASTLE Heart Attack & Vine
April 25th EDINBURGH The Wee Red Bar
April 26th INVERNESS Mad Hatters
April 27th STORNOWAY Jager Rooms
April 29th GLASGOW King Tuts
May 3rd LIVERPOOL Sound City
May 4th STOKE Sugarmill
May 16th BRIGHTON The Great Escape
May 17th NEWPORT Le Pub
May 20th BRIGHTON Green Door Store
May 25th IPSWICH Steamboat Tavern

Strange to believe but it was barely a year ago that electrifying Essex-based octet (there's eight of them, y'know) DINGUS KHAN were preparing to release the 'Knifey Spoony' single first time around on Label Fandango. Instantly picked up by Colchester United fan Steve Lamacq in March 2012 their debut 7" triggered a blitzkrieg of activity as the band were invited in to record a session at Maida Vale, appeared at Bestival, Latitude and Reading / Leeds Festivals, released another two singles ('Made A List' and 'Plank'), and generally gave the impression they were having a barrel of laughs falling off the end of Harwich Pier with a live show which was one part punk spirit, two parts prog skill and several parts anarchic chaos. As you may or may not expect from a band described, not unreasonably, as a cross between Blur and Frank Zappas Mothers Of Invention.
Oh, and they released an album called 'Support Mistley Swans' in October, which itself triggered a UK tour where they sold out Colchester Arts Centre, supported Ultrasound at the Scala and opened for The Fall and The Undertones at Norwich Epic at a benefit show for the John Peel Centre in Stowmarket. It's a good fit, too: if Peelie were around today he would surely embrace Dingus Khan to his random East Anglian musical bosom and never let them go, not least because when fully armed Dingus Khan's line-up includes Ben Brown (lead vocals / guitar), Josh Court (electric ukelele), Tom Armstrong (bass), Adam Toms (bass), Alex Dunne (bass). Nick Daldry (drums), Paul Miller (percussion) and Gareth Burney (percussion). Number crunchers may care to note the presence of three drummers and three bassists. Other musicians may merely gawp in amazement.
In true unflagging Dingus style they ended the year topping the bill at the Artrocker Christmas party in Shoreditch and started off 2013 playing fierce panda's Pandamonium hoedown. The Dingus trust never sleeps. It does however define itself thusly: "There is a new exciting music being made, with subtle harmonies and fierce grinding dischords, a music so powerful that it would drive us mad if only our ears were tuned to the sound of it¦"
Khan you feel the force?