featured news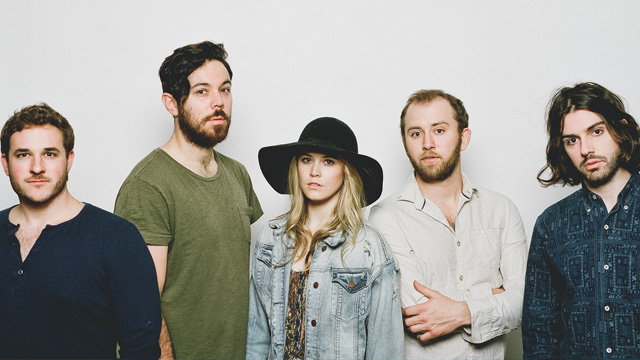 Milo Greene Float On Back To The Uk
16th March 2013
Share:


Artist Profile
* MILO GREENE FLOAT ON BACK TO THE UK *
* COLD WAR KIDS TOUR, SCALA SHOW AND GREAT ESCAPE ALL CONFIRMED *
* AND THERE'S A NEW EP RELEASE, TOO... *
a breathlessly breezy fierce panda one sheet
The Act: MILO GREENE
The Release: THE 'WHAT'S THE MATTER' EP
The Tracklisting: 'WHAT'S THE MATTER' / 'STAGING POINT' (LIVE) / 'DON'T YOU GIVE UP ON ME' (LIVE) / 'AUTUMN TREES' (LIVE)
The Formats: FOUR TRACK DIGITAL DOWNLOAD EP SINGLE
The Label: fierce panda
The Release Date: MAY 13TH 2013
The Introductory Bit: MILO GREENE still consist of five softpop dreamers from the West Coast of America, those dreamers being Robbie Arnett, Graham Fink, Andrew Heringer, Marlana Sheetz and Curtis Marrero. Curtis we know is the drummer on the drums. The other four-fifths of Milo Greene meanwhile ebb and flow around the stage playing guitars, percussion, keyboard, bass...basically whatever takes their fancy as each song unfurls. It sounds like some ghastly communal hoedown but in fact their terrific debut UK live shows of January captured a band locked in some (ch)eerily efficient gear-swapping trance.
The 'What's The Matter' EP is the latest release to be tied in with Milo Greene's 'Milo Greene' album which was released earlier this year. The bruised, breezy title track gained them their first tickles at radio late last year, while of the three live recordings which make up the rest of the EP 'Don't You Give Up On Me' and 'Autumn Trees' are both bucolic live versions of Milo Greene album tracks and 'Staging Point' is also a live version, this time of a brand new song. As ever, while they might seem like classic troubadours of the West Coast rock dream on first half-listen, theres a dizzying edge to their creativity, a palpable sense that they are playing with your emotions. Throw in the macabre 'Moddison' film they made to accompany their album and you'll suspect that these people have seen the shadows beneath the West Coast sunset.
To coincide with this release Milo Greene make their second visit to these shores this year in the spring. Last time around they sold out two nights at St Pancras Old Church, headlined Breakout at the Barfly and gently dazzled the masses from Leeds to Glasgow while the 1957 single latched onto the Radio 2 playlist. This time around Milo Greene will be supporting Cold War Kids across Europe, visiting The Great Escape and playing their own headline show at London's Scala, as these April and May dates may assest:
APRIL 24TH PARIS Le Bataclan*
APRIL 27TH ZURICH Plaza*
APRIL 29TH VIENNA Flux*
APRIL 30TH BERLIN C-Club*
MAY 1ST AMSTERDAM Paradiso*
MAY 2ND COLOGNE Gebaude 9*
MAY 4TH BRUSSELS Les Nuits Botanique Festival
MAY 5TH GRONINGEN Liberation Festival
MAY 6TH COPENHAGEN Pumpehuset*
MAY 7TH HAMBURG Gruenspahn*
MAY 9TH LONDON The Forum*
MAY 10TH MANCHESTER The Ritz*
MAY 15TH LONDON The Scala
MAY 16TH BRIGHTON The Great Escape venue TBA
* = supporting Cold War Kids
www.milogreene.com