featured news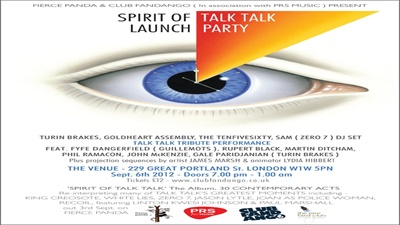 Win Win Talk Talk Album And Book!
14th January 2013
Share:


Artist Profile
Last autumn you make care to recall that we released a 30 track double album tribute to the glowering post-orchestral majesty of Talk Talk, called Spirit Of Talk Talk. Just last month EMI released a compilation entitled Natural Order, which granted Mark Hollis the opportunity to create his personal playlist of surreal, spectral Talk Talk goodness through the years. Happily, several of the tracks he chose for Natural Order appeared on our tribute album reworked by various artists, in every sense of the phrase.

Equally happily just last week we finally put the various Spirit Of Talk Talk-themed videos wed accumulated over the past six months into some sort of natural order and set up a fierce panda youtube site devoted to such artistic excellence, not least the terrific mini-film created by Talk Talk artistic expert James Marsh. His and several other videos can be watched right here:





To celebrate all of these really splendid events we thought it was high time to give you, the reader, the chance to get their paws on a copy of the album and a copy of the really-abso-bloody-lutely excellent Spirit Of Talk Talk book, which casts a lavish eye over the career of one of our most cherished acts.

All you have to do is tell us which of these acts DIDNT make it onto the Spirit Of Talk Talk album?

a) White Lies
b) King Creosote
c) Elbow

Send your answer to demos@fiercepanda.co.uk and we will do the rest by teatime on Friday.