featured news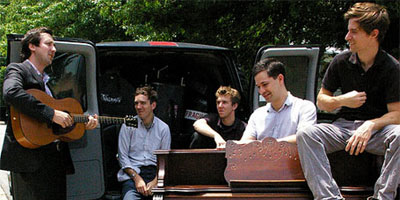 The Walkmen Walk Back To Happiness!!
19th December 2008
Share:


Artist Profile
Everyone's favourite angstrock troopers THE WALKMEN are making a swift return to these wintery shores in February 2009. Some of us are still reeling from the NYC quintet's frankly ace London ULU show in the autumn, when the snow fell like dying stars and all that, and we trust we will be reeling again on Friday February 20th when THE WALKMEN headline fierce panda's fifteenth birthday party at London Kings Cross Scala. It's a good package, too: in support in the main room will be Hatcham Social + The Molotovs, while upstairs in room 2 will be a post-gig party-stroke-aftershow sorta thing with more bands and DJs and fun fun fun. More details are available from scala link and tickets are available right now from wegottickets link

It's not just our bash THE WALKMEN will be ambling over for, either: there are French dates in the diary plus shows in Birmingham and Brighton AND a Zane Lowe Radio 1 session to be recorded. Oh yeah, there is also the small matter of a new single to consider, with 'In The New Year' seeing the plight of day on February 16th on the panda.