featured news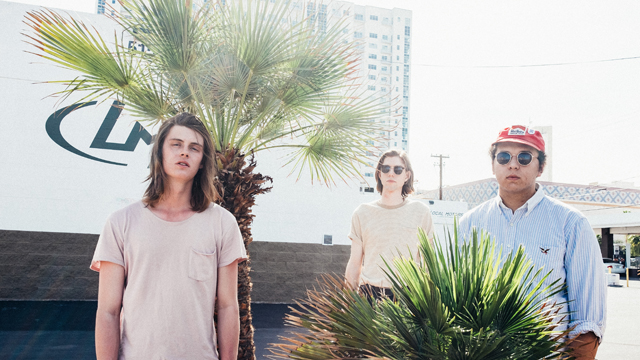 The Velveteins Go All Night, Baby!
22nd July 2018
Share:


Artist Profile
** THE VELVETEINS GO ALL NIGHT, BABY! **
** TWANGING NEW TRACK OUT 20.07.18! **
A laconically DIY fierce panda one sheet
The Act: THE VELVETEINS
The Track: 'ALL NIGHT BABY'
The Label: FIERCE PANDA
The Release Date: JULY 20TH 2018
The Video Link: https://www.youtube.com/watch?v=fZ7gnu7F9Yw
The Truth: The Velveteins is still very much a rock n' roll band from Edmonton, Canada which consists of Spencer Morphy (vocals / guitar), Addison Hillier (percussion) and Dean Kheroufi (bass). 'All Night Baby' is their brand new single which is taken from their excellent (debut) album 'Slow Wave', and a tidier two minutes and 33 seconds of casually perky psychpop you will not hear all this week.
The Velveteins fell into shape in the summer of 2014 after the singer Spencer's return from some quality time spent vagabonding around Australia - and believe you us, this is very much a band made to go vagabonding. Their slinky indiesurf tendencies have drawn comparisons to The Kinks and The Libertines, but The Velveteins are frequently more casually weird than totally wired, and their 'Slow Wave' opus leans towards the likes of Mott The Hoople and The Flaming Lips when the mood suits.
'All Night Baby' is one of the sweetest of the 'Slow Wave' tracks to be nudged towards the world's radio waves, as the trio's laconic DIY ethic delivers an indiepop nugget which is twangier than a stripping vicar's garter. But don't take our wayward words for it, let us brazenly pillage from the www.thrdcoast.com video premiere by Phillipe Roberts, who said thusly:
"Innocent sock-hop sweetness gets glossed up with tight, punchy production on 'All Night Baby', a song that checks all the boxes for a classic '60s romantic desperation anthem. The lyrics are pure teenage yearning and bravado, confident that if only you could get that one chance, you'd sweep the object of your affection into dreamy bliss. Throw in a couple of "Ah La La"s (as the gang do pitch-perfectly), make sure those guitars slap back with drippy, surf-rock reverb, nail the call-and-response harmonies, and you're halfway there."
For the rest of the journey come join The Velveteins as, fresh from rocking the Rock The Shores festival in Victoria, they show up at these shows here:
JULY 27TH – 29TH Real Love Summer Fest - Teulon, MB, Canada
SEPTEMBER 13TH The Imperial - Vancouver, BC, Canada
www.facebook.com/thevelveteins
www.fiercepanda.co.uk www.fiercepanda.ca