featured news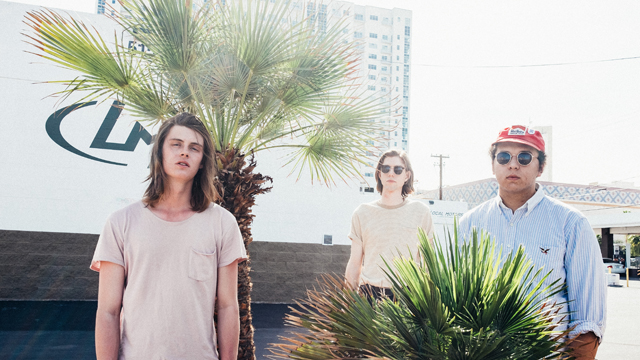 The Velveteins Get Vibed Up With Slow Wave!
4th May 2017
Share:


Artist Profile
** PSYCHPOP THRILLER! THE VELVETEINS VIBE UP DEBUT ALBUM! **
** 'SLOW WAVE' SPEEDILY RELEASED 12.05.17! **
A power-popping fierce panda one sheet
The Act: THE VELVETEINS
The Release: 'SLOW WAVE'
The Format: DIGITAL ALBUM
The Label: FIERCE PANDA
The Release Date: MAY 12TH 2017
The iTunes Link: https://itunes.apple.com/gb/album/slow-wave/id1229113022
The Tracklisting:
1 'First Wave'; 2 'Strange Side Of The Street'; 3 'Spanish Wine'; 4 'Daydreams'; 5 'Midnight Surf'; 6 'Don't Yah Feel Better'; 7 'All Night Baby'; 8 'All I Do'; 9 'Slow Wave (Outro)'
The Truth: The Velveteins are a rock n' roll band from Edmonton, Canada, who consist of Spencer Morphy (vocals / guitar), Addison Hillier (percussion) and Dean Kheroufi (bass). Their brrrrrand new 'Slow Wave' album is a tidily slacker nine-track distillation of cosmic vibes, indierock tunes and glammed-up spirit epitomised by current single 'Midnight Surf,' where dreamy melodies pop up from all angles and creamy guitar solos sink like polished stones. Better still, the video for 'Midnight Surf' features a vivacious VW campervan, which you can see here: http://www.thewildhoneypie.com/the-velveteins-capture-the-feeling-of-midnight-surf-in-new-video-premiere/
The Velveteins fell into shape in the summer of 2014 after the singer Spencer's return from quality time spent vagabonding around Australia - and believe you us, this is very much a band made to go vagabonding. The 'A Hot Second With The Velveteins' EP set out their rackety indierock stall last year, and at the end of 2016 they dropped the 'Don't Yah Feel Better' track to set the 'Soft Wave' debut album bells ringing with its punchy twangs and lurid lip-synch-tastic video.
Their slinky indiesurf tendencies have thus far spewed forth comparisons to The Kinks and The Libertines, but The Velveteins are frequently more casually weird than totally wired, and always way more welcoming, as you may expect from a band whose casual psychpop nods at The Flaming Lips, Mott The Hoople, Mac DeMarco, Temples and even occasionally a paisley Placebo.
The Velveteins are currently on a North American tour with plans a'plenty for UK shows later this year. Until then, remember this: The Velveteins last visited these shores in 2016 for shoeless shows at The Great Escape in Brighton, Sound City in Liverpool and Abbie McCarthy's Good Karma night at the Islington in Islington. Rather handily, the terrific trio from Edmonton (in Canada) based themselves in Edmonton (North London). And you can't get tidier than that.
"Assured, demonstrative and undisguised, The Velveteins crack out the surf-pop hooks as frontman Spencer Morphy reminds us all that everything isn't so bad when you have a good tune in your ear and your friends close by." – Goldflake Paint
"…The lo-fi but confident vocals lure us into the dazed soundscape…a faultless balance between sparkly guitars and intensifying drumming patterns." – Gig Goer
"A lovely mix of lo-fi vocals and indie-pop construction…'Midnight Surf' is a slow burn of a track, so when it explodes into a storm of percussion, the catharsis is well earned." – Wild Honey Pie
"Sometimes there's just no need to over-complicate things…'Slow Wave' is a collective of unaffected rock songs that cut a little deeper than most." – Clash Music