featured news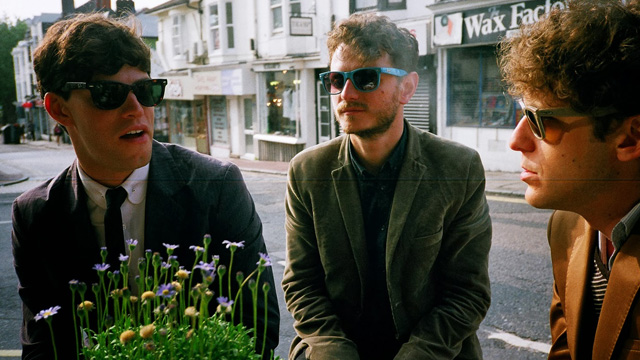 Felt Tip Feel Tip Top
20th October 2013
Share:


Artist Profile
** FELT TIP RELEASE EXCELLENT DEBUT SINGLE ON NOVEMBER 18TH… **
** …AND PLAY LAUNCH GIG AT SEBRIGHT ARMS ON NOVEMBER 22ND! **
A languid Label Fandango one sheet
The Band: FELT TIP
The Release: 'LOVE OR PITY'
The Formats: DIGITAL SINGLE
The Release Date: NOVEMBER 18TH 2013
The Record Company: LABEL FANDANGO / FIERCE PANDA (cat no galagos 041)
The Truth: FELT TIP are a band who have spent the past six months foregoing the perilous delights of the facetwitter world and therefore floating around the indie ether in a fug of mystery. What we do know is that they number three, and that English bassist and drummer duo James Tyler and Tom Rapanakis met volatile French guitarist Anton Trampon in London after he left an ad in their studio listing Television, Ennio Morricone and "everything at DFA Records" as influences.
We also know that Felt Tip are named after a song by Swedish indiepopsters Love Is All, and that 'Love Or Pity' is their debut single. It was recorded on Rory Attwell's lighthouse boat studio in East London and continuing the travel theme the video for 'Love Or Pity' features a really cool looking old train. Never say that Felt Tip have ideas above their station.
Rather, over the summer they moved stealthily around the underground playing quietly terrific shows at the Tipsy Bar, Shacklewell Arms, Old Blue Last and, most recently with Frankie & The Heartstrings at the 229 AIM Awards shows, with a sound which is nervy, but casual; jagged, yet welcoming. Just as front man James Tyler has a mite of Morrissey, a soupcon of Jarvis and a whisper of Bob Willis about him so musically we're talking classic, quietly quirky British pop (NOT Britpop) with even Gallic guitarist Anton adding a love of XTC to his cavalier list of influences.
All the way back in the spring of 2013 Felt Tip poked their heads above the parapet with a free download of the 'Milk & Honey' track via Young & Lost. It went down extremely well with some people, noticeably blagsound.com who opined: "'Milk & Honey' is a phenomenal mix of Television-esque post-punk and more contemporary electro-tinged psychedelic rock. We get sent tracks from brand new bands and PRs all the time, but what's really striking about this particular record is the incredible synergy. It's so rare to find a band in such infancy to share such coherence and have a complete sound. I absolutely adore this record and can't wait to hear it live..."
'Love Or Pity' hereby joins the esteemed chorus of chaos which is the Label Fandango birthday subscription club, becoming the fifth of 12 digital singles carefully handpicked and robotically released to celebrate 12 years of Club Fandango. If you can't wait to hear it live either get your purple shoes heading to the very special single launch party here:
NOVEMBER 22ND LONDON Hackney Sebright Arms (+ Climbing Boys)